Which motherboard do you pick if you want a new Ryzen 3000 processor? And which motherboards should the pc-kombo recommender suggest in optimized PC builds? Let's decide on a strategy.
What's on the market?
Ryzen 3000 is the third generation of Ryzen processors, the same amount of motherboard generations is available.
The first generation (e.g. Ryzen 5 1600) released alongside of boards for its AM4 socket with the A320, B350 and X370 chipsets. A320 is the low end option, locked and not very attractive. B350 and X370 are unlocked and of better quality. The AM4 platform is pretty special in that its high end chipset is unnecessary for most, the B series is too good and contains everything most users need, thus B350 sold very well.
The second generation of Ryzen (e.g. Ryzen 5 2600) was supported by the older boards, but (like now) they needed a BIOS update to run on them. New B450 and X470 boards ran them out of the box. Same situation as before: B450 was good enough for most, it had almost the same feature set.
The third generation boards (for e.g. Ryzen 5 3600) are out now, but only the X570 chipset is released yet. And they are more expensive than X370 and X470 boards have been. Instead of ~100€ for a B450 board you can now easily pay ~200€. The boards with the chipset have additional active cooling for the VRM, targeting overclockability for the 12 core Ryzen 9 3900, and are typically better equipped in terms of ethernet, USB and M.2 slots.
Which boards support Ryzen 3000 in general?
All boards but those with A320 chipset do support Ryzen 3000. It's part of the promise AMD made, of supporting the AM4 socket till 2020. But that does not mean you can just plug the newest processor in and it will work: You do need a BIOS update for the new processors to work.
I have an old AM4 board. Can I really upgrade to Ryzen 3000?
The older boards (apart from those with A320 chipset!) support the new Ryzen processors just fine, surprisingly even the Ryzen 9 3900X. If you want to be sure search for user reports whether it worked in practice also on your model, and go to the manufacturer page to check the CPU support list. The new Ryzen processors should be listed and a BIOS update be available. Don't forget to apply that BIOS update before installing the new processor!
Which board should I buy for a new PC build?
Boards with the X570 chipset are the easiest option. They got released at the same time as Ryzen 3000 and come with a BIOS supporting the new processors out of the box. The few reviews released so far show that the X570 boards are very good. Cheaper models like the ASRock X570 Phantom Gaming 4 and Gigabyte X570 Gaming X did get no professional reviews yet, but are likely to be the most reasonable options.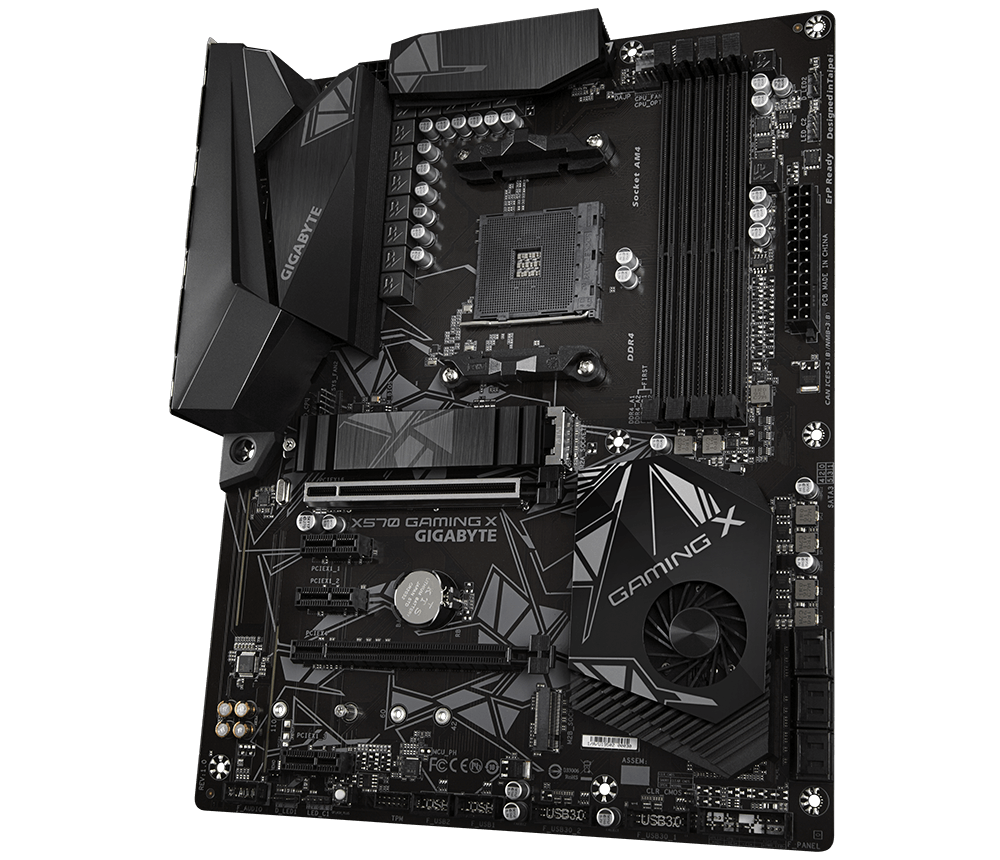 But there are also at least two drawbacks. First is the price: X570 is way more expensive than the prior generation of X470 or B450 boards. Second is the VRM fan, which is not only an additional noise source, the proprietary designs are also bound to break early and be hard to replace.
Still, if you do not mind the higher price, X570 is the best option. Also when getting a lower end chips like the Ryzen 5 3600 you will profit from not having to update the BIOS, when getting the Ryzen 9 3900X the board will take the higher load without breaking a sweat.
Your second option is to get boards with the B350, X370 or B450 chipset and an USB BIOS Flash option (surprisingly no X470 board seems to support that feature). Those boards listed here support updating the BIOS without a working processor, just by preparing an USB stick. There are not many of them, but the list includes some popular models like the MSI B450 Tomahawk. If you buy it and the BIOS is not updated yet you can easily update the BIOS and you will end up with a working system, without having to borrow a processor somewhere else.
Your last option is to just wing it. Get a cheap B350 or B450 board and rely on its BIOS already being updated. If not, just return it – or buy the cheapest available processor that works without needing an update on all of these boards, which should almost always be the A6-9500 (for B350, B450, X370 and X470) or the Athlon 200GE (for B450 and X470). You can then return it or sell it when you do not need it anymore.
In the coming weeks and months all the old stock resting in warehouses will be sold and the new boards will come into circulation with a current BIOS already installed. So this strategy will become easier in the future, organizing an update processor less often necessary.
How can I get help with this?
Our motherboard list has a filter for that USB Bios flash option. You can use that to select a board available in your country that supports upgrading the BIOS easily. That way you can select a cheaper board without the big risk of losing a lot of time getting the right BIOS version on the board. Also, when creating a build with the recommender, if it selects a Ryzen 3000 processor it will by default always select a board with that BIOS flash feature, as long as they are cheaper than X570 boards.